A buoyant market thanks to the advantages for tenants and investors.
Co-living is a real innovation because you live differently there, no longer alone but together, sharing the common areas of a residence with people you don't know. It is a fundamental break for the way of life, but also for the way of managing real estate. And for good reason, co-living takes housing out of the "one housing, one person" or "one housing, one family" scheme.
Three pillars: community, services, flexibility
Co-living, born in the United States in the 2000s, is a way of life for many that brings together private spaces and shared spaces, with many services. Composed of ten to several hundred accommodations, these new, decorated, furnished and equipped residences are divided into private spaces consisting of a large bedroom, a small kitchen, a bathroom and shared spaces with living room, library, terrace, coworking space, gym, etc. Services are offered to occupants such as high-speed internet, cleaning, laundry, sports lessons, swimming pool, sauna, Netflix subscription and concierge.
Who are the Colours?
Co-living is above all a mode of habitat based on the search for social ties. As such, young single workers are the main occupants. But there are also more advanced workers, even young seniors at the end of their careers and preparing for their retirement. Their common point? They are generally in a period of transition.
Obvious advantages
The total cost of housing is definitely a highlight. For the equivalent of rent in an old and not always high-quality studio, the tenant has a new, modern, well-decorated residence, including heating, electricity, an internet connection, cleaning and many services. . The benefit is there both in total cost and in quality. For the rental, the deposit and the guarantee are not required.
On the side of the investor, owner of the walls, the high profitability stems from a better optimization of the m² thanks to the mutualisation of the common spaces. The rental is done in Plug and Play mode via platforms such as Koloving.fr where the reservation, the signing of the lease and the payment are made online immediately.
A buoyant market that will take shape
The number of people living alone or cohousing is increasing rapidly. It has gone from 13% to 20% for the 25 to 39 age group in twenty years (source: BNP Paribas Real Estate). Everything suggests that demand will remain strong. The core target is estimated at 500,000 people: young workers (25 – 40 years old) single with a good job, open to long-term co-living. Today, it is essentially an urban market present in large cities.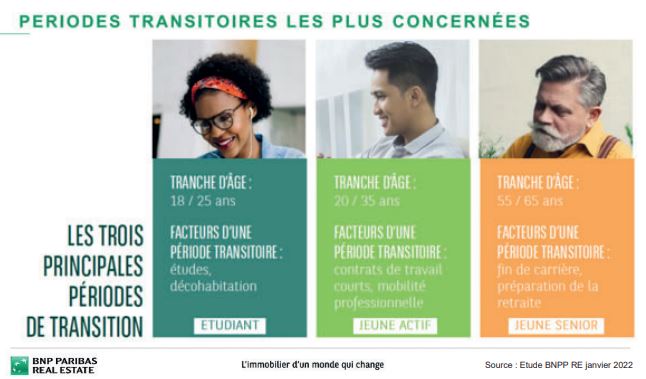 In 2021, there are 8,300 places in France, compared to 5,000 in 2019. Ile-de-France represents around half of the market. Nearly 4,000 new places are planned in French cities. Management is provided by specialized operators who are, for the leaders, The Babel Community, Urban Campus, Dovevivo, Colonies, Sharies. Property developers are also investing and Nexity, Bouygues Immobilier and Vinci Immobilier have projects underway. We can anticipate a concentration of the sector in the long term. The economic model is an investor who owns the buildings, who rents to an operator who will sublet to the occupants. It should be noted that this rental escapes the constraints of the Alur law, proportion of social housing, and rent caps because it is serviced residences.
Interest is strong and, according to a study by Cushman & Wakefield, co-living investment attracted €455 million in capital in 2021, nearly 15 times more than in 2020.